Professional hair stylists have a big responsibility to their clients. For starters, they need to make their clients more presentable whenever they attend various meetings, functions, and events. To do this, they need to have the right tools in their stylist kit. Are you sure you have the right tools for the job? Well, if you have The Ultimate Moroccan Argan Oil products in your kit, you're surely off to a good start! What else do you need? Here's a list of all the essential tools and products that should find their way into your stylist kit.
Stylist Kit Must-Haves: The Essentials List
Hair Products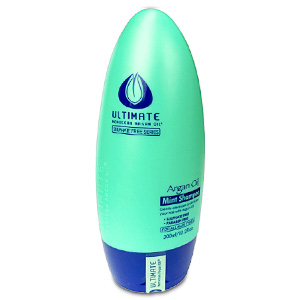 Shampoo and conditioner. Overstyling, washing hair too often and excessive exposure to sun, wind and dry air strip hair of its natural oil and moisture leaving it dry, brittle and unmanageable. Thankfully, you can prevent your clients from going through endless bad hair days by using the right shampoo and conditioner such as The Ultimate Moroccan Argan Oil hydrating shampoo and conditioner. These products are rich in essential fatty acids, antioxidants and natural moisturizers that can help restore hair health. With regular use, your clients will surely enjoy shinier, softer and more manageable hair.  For oily hair, use The Ultimate Moroccan Argan Oil Mint shampoo and conditioner instead.
Hydrating mask. For stand out shine, elasticity and extreme manageability, treat your clients' hair to a weekly mask. For this, we highly recommend The Ultimate Moroccan Argan Oil Instant Repairing Mask.
Styling cream. Achieve the look you want to create by using a styling cream that holds the hair in place while moisturizing and strengthening the hair strands. For curly or wavy hair, use a curl defining essence that provides maximum hold while keeping hair bouncy, soft and frizz-free.
Shine enhancer. Everyone dreams of having shiny, soft hair so use a high-quality Argan oil treatment that not only adds shine but provides long-term conditioning to hair without leaving any residue that will weigh down hair.
Tools of the Trade
Combs and hairbrushes. Stylists should have a variety of high-quality combs and hairbrushes in your kit since each of them serves a different purpose. You should have a different hairbrush for detangling wet hair and another for detangling thick, curly hair. You should also have the following:
a wide-toothed comb for working out tangles
thermal hairbrush for static-prone hair
barrel brush for blowing out thick hair
a smaller barrel brush for blowing out fine hair
scalp brush for removing scalp build up
a brush for teasing hair
Blow dryer. Besides taking excess moisture from wet hair, blow drying can help seal in moisture, control frizz, prevent tangles and help you get the look you're aiming for. Just remember to apply an appropriate heat protectant before using it. For best results, choose an ionic blow dryer with a ceramic system, and use the right attachment (diffuser, concentrator) to achieve the right effect.
Flat iron. Aside from straightening hair and taming the frizz, you can also use it for curling or crimping your client's hair. However, since these tools use an excessive amount of heat to get the desired look, using them too frequently may irreversibly damage the hair, leaving it dry, brittle, and dull. You can't afford to let your clients' hair suffer, right? Thankfully, there is an easy solution to this problem. Ditch your old hair straightening iron and start using the Argan Oil Vapor flat iron!
This revolutionary product features an innovative infusion vapor system that protects the hair while styling. It transforms the Argan Oil Infusion Treatment solution into vapor and infuses it into the vented plates as they glide over the hair. Argan oil is also infused in the ceramic plates to revitalize and strengthen hair and protect it up to 450°F heat.
Curling wand. While you can use your straightening iron to do the trick, working with a curling wand (or curling iron) will definitely make your job easier and faster.
Additionally, your stylist kit should have the following:
Section clips or duckbill clips for holding hair sections separately during cutting and styling and/or for securing hair while doing makeup
Hair grips or bobby pins to secure a braid or fasten a quick hair updo
Non-slip, static-free hair bands to hold hair firmly in place
Hot rollers to add volume and bounce to fine, straight hair
Velcro rollers to set hair and add body, volume, and bounce
Small color brush for highlighting hair color or covering gray hair along the hairline or part-line with temporary color, smoothing or coloring eyebrows, and taming frizz and flyaways
Cutting shears
Shoulder cape
Spray bottle
Shower caps
Disposable towels
A durable mirror
Waterproof floor covering to protect your clients' floors against unavoidable spillages
Heat protective non-slip mat to avoid the risk of burning holes when you put down your straightening iron
Heat resistant gloves to avoid burns while using hair tools
Hand sanitizer
Ziploc bags to store used brushes and combs
Hair stylists do more than just take care of their clients' hair. They can also help boost their clients' self-esteem and confidence, and promote speedy recovery from an illness. Yes, your role doesn't end in making your clients more presentable to the outside world! You play a greater role in your clients' lives so choose the best tools and products to help you do your job. Are you sure you have everything you need in your stylist kit? Go ahead and check it out!
The Ultimate Moroccan Argan Oil: The Hair Stylists' Ultimate Weapon for Beautiful Hair
You only need one thing to keep your clients' hair in great shape – The Ultimate Moroccan Argan Oil hair care products. We have everything you need to keep your clients' hair soft, shiny and more manageable all throughout the year so go ahead and try them now. Your clients will love you more for it!
We offer a live customer service from 9 AM to 5 PM CST so if you wish to ask any questions, just pick up your phone and dial 888-377-9187 or use the Contact Form on our website. You may also connect with us on Facebook, Twitter, and Instagram.